Mountain View Cemetery Book and CD is available for Sale.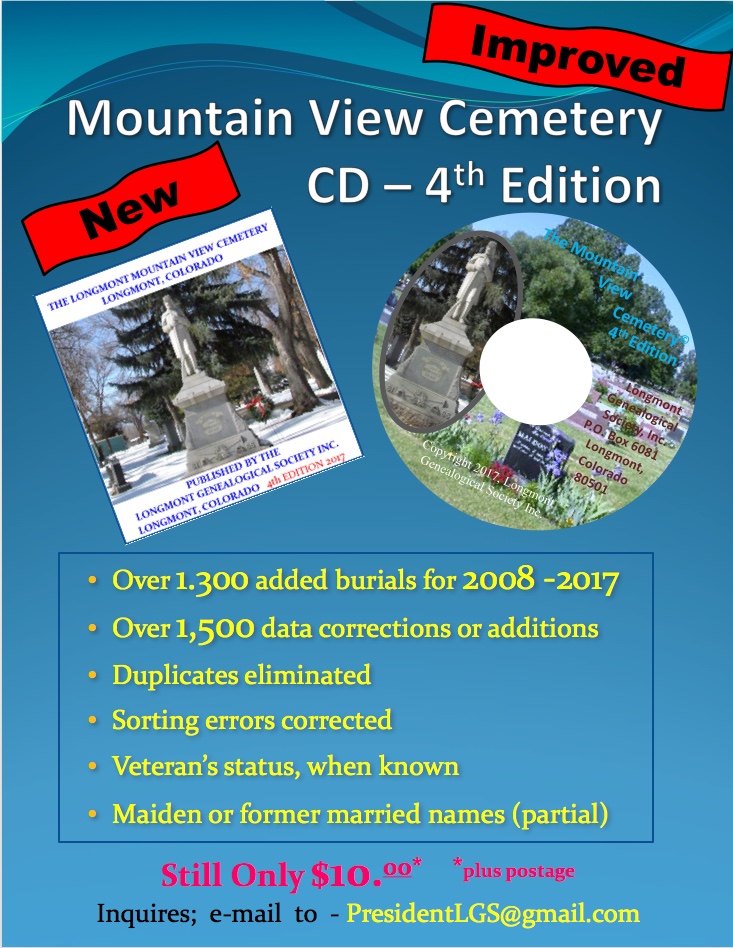 The LONGMONT MOUNTAIN VIEW CEMETERY Book* & CD is available for sale.
*
The book is currently sold out but a NEW 4rd Edition of the CD of the cemetery data is now available with burial information thru May 25, 2017
.
The Longmont Genealogical Society Inc. members and other volunteers have worked to record all the burials and the tombstone inscriptions. The book contains approximately 500 pages, 20,776 entries, the history and a map of the cemetery as well as photos of several unusual monuments. The 4rd Edition of the CD version has been updated with interments through 25 May 2017, over 1.300 additions, bringing the total entries to 22,300 on 1,824 pages. In addition, some errors that existed in the 2nd and 3rd Edition CD, duplicate entries and sorting errors, have been corrected. Some new content has been added including; data on maiden and former married names (partial), veteran status including service branch and war of service, when known.
The book contained data listed alphabetically by surname and given name, and contained data thru 2002. The plot locations in the cemetery, Section, Block & Lot numbers, are given for each entry as well as the birth & death information that is recorded on the stone. On the NEW 4th Edition of the CD a database sorted by cemetery plot location is also included, as it is often useful to see others interred in the same lot or nearby. If a marker has military service information or an organizational notation, that is also listed. In addition, for the 4th Edition CD military service information from obituaries and other sources, where found, has also been included. In addition many, but not all, unmarked graves have been researched and life dates found in obituaries or other sources has been included in the notes section. The information covered is from the beginning of the Cemetery in 1876 through May 25, 2017.
PRICES OF THE CD IS LISTED BELOW:
•
Hard bound book printed on acid free paper: $35.00 plus $5.00 postage
SOLD OUT
• New 4th Edition CD* version thru May 25, 2017 is available: $13.00** including postage.
* 4th Edition CD Version has some colored photos of the cemetery, a database sorted by plot location, plus military service information, maiden and former married names (partial) not found in the original book or 2nd Edition CD.

** $10 if local pick up is feasible

ORDERS AND OR QUESTIONS SHOULD BE SENT TO:

Longmont Genealogical Society, Inc.
P. O. Box 6081
Longmont, CO 80501-2077
OR email the Society at:

PresidentLGS@gmail.com


---

Copyright © 1999 - by the Longmont Genealogical Society. All rights reserved.